Don`t Gamble When Choosing a Janitorial Company!  It`s not only because you are giving key to your facility after hours, but because you need truly clean environment in your office that is free from the contaminants that live on your floors , in your carpet and all surfaces that you touch trough out the entire day.
Attention! Office Managers, Building Owners in Chicago Who Want Clean, Spotless Offices WITHOUT All the Hassles or "Surprises" that Come with an Unreliable, Underperforming janitorial service companies.
Finally! A reliable, dedicated, professional janitorial cleaning service – with a personal touch. We treat our clients like family, and their properties like our own… taking pride in our work and delivering on our promises!
Have you ever hired an office cleaning company, and felt less-than-thrilled with their performance?
Have you ever felt like your office cleaning service didn't really care about you?
Have you ever paid your HARD-EARNED MONEY to a local commercial cleaning business, and found they:
  Failed to perform their agreed-upon services, resulting in an office that just wasn't clean?
  Took forever to respond to your complaints or emergency requests – leaving you feeling abandoned in a time of crisis?
  Lacked communication, resulting in all kinds of problems and "misunderstandings"?
  Were inconsistent and unreliable: even though you were paying for regular cleaning, your office often appeared messy, dirty, or even unsanitary – projecting a terrible impression of your business to customers, vendors, and prospects?
 Your Janitorial Service Should Be Better Than This! 
Testimonial #7 Kim Cooper"We have been using Clean Impressions for about 6 months now. They do a fantastic job! Our office is spotless. Very dependable as well. Would definitely recommend them if you are picky about your surroundings."– Kim Cooper
If you've ever hired a cleaning company and experienced any of these common disappointments, it's not your fault. It happens all the time. You think you are hiring professionals. You hope you can trust them. You believe that they will follow through on what they say, and that your building will be clean, sanitary, and inviting to everyone who enters it.
But in the end, you are dissatisfied with the service and, in pure frustration, begin your search again for a company you can rely on to do what they promise, and to do it well.
The good news is, there IS an office cleaning business that puts your needs first, while ensuring your office sparkles from top to bottom – so you can make the best first impression on every person who walks through your doors.
 We are Clean Impressions Corp.
Testimonial #8 Mary Carpenter"My associations have been with Clean Impressions for over 10 years. They could not be happier. Michael goes above and beyond every time I need anything done."– Mary Carpenter
My name is Teresa Garvin. With 15 years in the business and 30 years experience in the industry, I'm president and founder of Clean Impressions Corporation, a Chicago-based business priding itself on delivering extraordinary cleaning services to small and medium-sized offices in the metro area. We do everything from spring cleaning, carpet cleaning, and routine janitorial service to heavy-duty industrial, construction and commercial cleaning.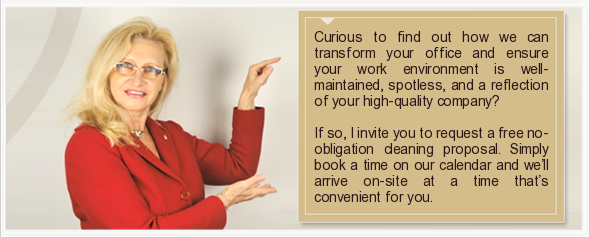 I make it a priority to ensure my company delivers EVERYTHING it promises. For that reason, I offer a 100% satisfaction guarantee for all cleaning services: If we don't clean your building or office as you've specified, and as we have agreed to, on a regular, consistent basis, then the service is free!